This is our third summer here in Star Valley, Wyoming and again, I am still on the hunt for wild huckleberries. They are an awesome little fruit, good for you, rare and hard to find. But now, finally, thanks to a friend, know what I am looking for and where to find them! Yahoo!
Last summer, we were excited to see all of the berries surrounding our home. Beautiful white flowers in the spring and loaded with berries in late summer.  Someone told my husband that they were huckleberries!  Knowing that they go for about $50 a Ziplock bag full, I was sure we would be rich!  We had struck gold, right on our own land.
We invited some friends over to pick some. Sure enough my friend, her husband, another family, and lots of kids with buckets came over ready to pick. My friend promptly asked, "So, where are they?" "Everywhere!" I exclaimed.  To my embarrassment and disappointment, she said, "Those are not huckleberries, they are service berries." Not even close! Ugh!
We enjoyed the night with them and the next day I picked buckets of service berries. It turns out this berry is well-known and used for many things. In some areas they are called Saskatoons. Service berries are not very juicy or tasty, but our grandkids and I made muffins and they loved them on their ice cream.  (I learned that if you add enough sugar you can make anything into syrup).
This year our bushes are loaded once again with service berries, and I'll use them, but I want huckleberries! My husband, Roger, kindly asked, "What is the big deal about huckleberries? Can't you just plant some, or buy them frozen?" So, I started thinking. Yes, I suppose I could, but I was pretty stuck on finding wild ones in the woods. And I finally did!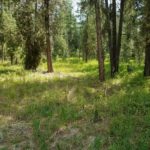 I know now that the huckleberry bush is low to the ground and the berries are almost impossible to see from a standing position. (Even when you are only 5'2). While some berries are easy to pick because they grow in clusters, huckleberries grow one by one on single branches underneath the leaves.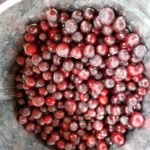 I went out again today and all the while I was picking, I kept asking myself why this was so important to me. Why was I set on finding wild huckleberries? Then this insightful quote from Thomas Paine came to mind:
"That which we obtain too easily, we esteem too lightly. It is dearness only
which gives everything its value."
Thomas Paine
And isn't that true of so many things? We take for granted things that come easily – and relish, prize, and value those things that take a bit of effort. Or in this case, a lot of effort!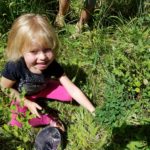 Last week, I took 3 of our grandkids to hunt for huckleberries and 2 of them gave up almost immediately. But, my little 4-year old granddaughter, Hadley, stuck with it and hit the jackpot. She was proud, and I was prouder. She and I took our little bucket of berries home and made syrup for our pancakes the next morning. Just the two of us.  "To the victor goes the spoils."