Seriously?! They say a picture is worth a thousand words but this one… oh my. I really think that we can be better neighbors; don't you? Our world and so many lives are in such chaos these days. There are so many who are suffering and living day to day in fear and uncertainty.  The challenges faced by some are obvious however, "in the quiet heart is hidden sorrows that the eye can't see." Never before in my lifetime has there been a greater need for us all to express simple kindness, love and concern for one another.
Kindness can be so simple. A smile, a compliment, a note in the mail, or a quick text of encouragement. Taking care of our neigbors. May I invite you to look around and know that as Mother Teresa shares, "Not all of us can do great things. But we can do small things with great love."
A few weeks ago, my husband traveled to Casper, Wyoming to spend a few days visiting his parents. One evening, we treated them to dinner at a favorite Chinese restaurant. As we were finishing our meal, the waitress came to our table and said, "your meal has been paid for." The service had not been so hot, so my first thought was that management was compensating for the many mistakes made by the rookie waitress, but no. She explained that our meal was paid for by the couple in the corner that just left!  Roger and I were pleasantly surprised, but his father was not. He simply pointed to his Veteran hat and said, "this happens to us all the time."
Outstanding! I have been so consumed and discouraged lately by the news of our day, that this simple act really renewed my faith in the goodness of mankind. That led me to re-read one of my favorite books, by Gordon B. Hinckley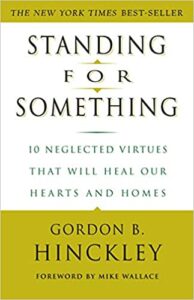 Stand for Something – 10 Neglected Virtues That Will Heal our Hearts and Homes
It speaks of such simple principles like "do unto others" and "love one another." It champions the need for honesty, trust, forgiveness and gratitude. Most of all has instilled in me hope and optimism for the future. Perhaps you will enjoy it too. 
Through challenged by this COVID crisis, we are doing ok. But we see neighbors, friends and family members who are not. All the more reason, I am recommitting to stop obsessing over the news, look up from my phone more often, 'see' people and do more to provide comfort and support for those within my reach.
We have a lot of snow here. I think I will go shovel my neighbor's steps.